Start Date:
Tuesday, January 10, 2017
NOTICE
To instill entrepreneurial skills amongst the students, "Chrysalis" The E-cell of The IIS University is planning to organize the 5th Bazaar on IIS Campus on 10-11 Jan 2017. All departments of the University are invited to put up a stall in the Bazaar. Heads of the different departments are required to plan for the stall in consultation with the other faculty members and students of the department. Cost of the stall (Rs.2500/-) and procurement of raw materials/ semi-finished goods will have to be borne by the department/participating team. The following will be provided by the University. 
Tables- 3
Chairs- 3
White Sheets -3
Please note that the profit subsequently generated out of sale would be kept by the Department/ Participating Team. Awards will be given under the following categories:
·         Most innovative business concept
·         Most sustainable business venture
·         Star Udyami
·         Campus Company
·         Best Decorated Stall
·         Best theme
 All Departments are required to submit the proposal in FORM-A (available at the reception) along with stall fee at the Reception by 7 January 2017.
In order to have a better understanding of the Business plan, the E-cell is organizing a workshop on 4-5  January 2017.
 All Heads of Departments should ensure that the students and the faculty coordinators must register themselves for the workshop as a mandatory requirement.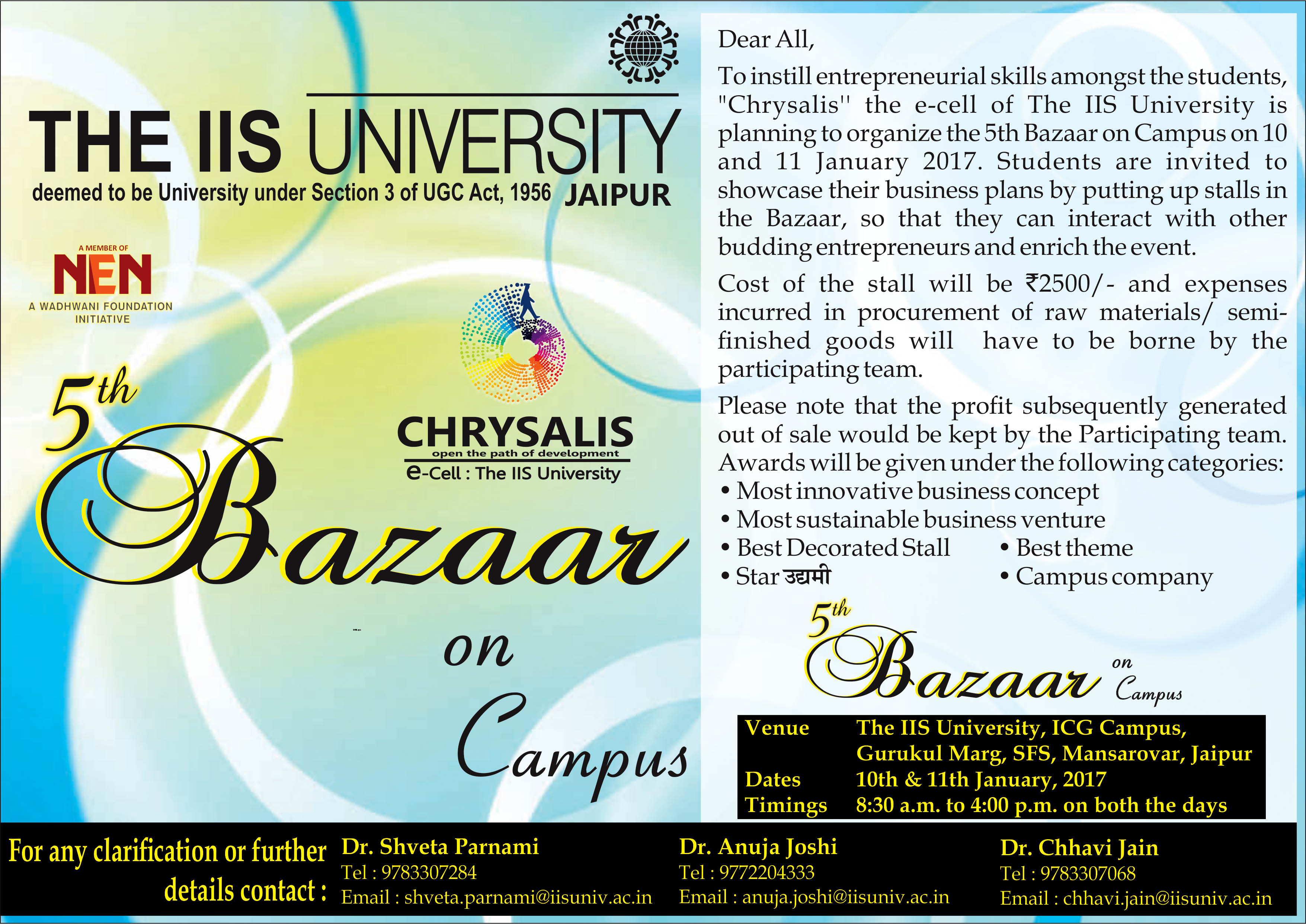 For any clarification or further details you may contact
Dr. Chhavi Jain (9783307068, email – chhavi.jain@iisuniv.ac.in)
Dr. Shveta Parnami (9783307284, email – shveta.parnami@iisuniv.ac.in)
Dr. Anuja Joshi       (9772204333, email – anuja.joshi@iisuniv.ac.in)